Our company participated in the Photoelectric Laser Exhibition in Frankfurt, Germany!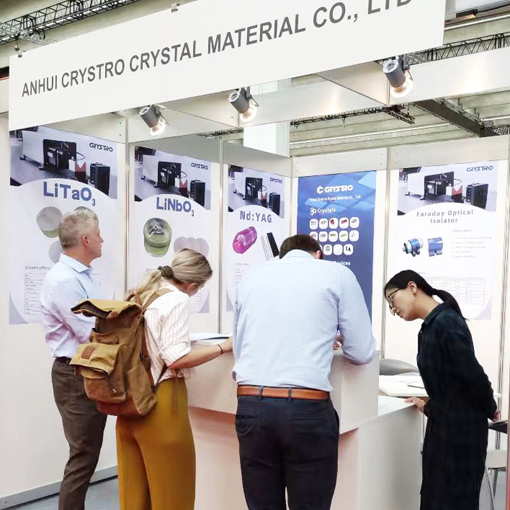 Optoelectronic Laser Exhibition in Frankfurt, Germany, referred to as German Optics Exhibition. Held every two years, it has become an important professional trade fair in the international optical field.
The exhibition will be held in Frankfurt Exhibition Center on October 18, 2022 as scheduled, and Crystro will participate in the exhibition with TGG, LiTaO3, LiNbO3, Nd: YAG, GGG, SGGG, LGS, Faraday rotator and other major products.
Anhui Crystro Crystal Materials Co., Ltd. is a national high-tech enterprise specializing in research, development, design, processing and sales of crystal materials and application devices and a high growth seed enterprise in Hefei. The crystal material TGG in this exhibition is mainly used in Faraday rotators and optical isolators; LT (LiTaO3) lithium tantalate and LN (LiNbO3) lithium niobate are key materials of SAW and BAW RF filters and high-frequency transducers for communication. The related products are widely used in laser processing and welding, laser lighting, mobile communications, optical communications, consumer electronics, medical testing equipment, medical beauty, scientific research and other industries.
If you need procurement consultation, you can contact us through the official website or wechat official account.